It's a daunting challenge to keep up growth momentum while still hitting your lofty business goals. It is not possible if the proper procedures are not in place. If you want to keep increasing your efforts, you need a strong sales team structure. Otherwise, cracks will quickly start to show, endangering not only your growth but also your profitability and bottom line.
But it's not unusual for sales leaders to place more importance on short-term strategies and fast fixes than on longer-term business requirements. Salespeople are continuously pressured to close deals and satisfy consumers' urgent requirements.
Growing pains associated with expansion and business development will eventually affect every quickly expanding company. Too many sales teams fall into the trap of believing that adding yet another representative will miraculously alleviate these increasing pains and boost sales performance. However, that additional sales team member will prove to be more of a burden than a benefit in the absence of a well-thought-out sales team structure and a distinct sales process.
You should scale your sales department strategically as a result.
When it comes to maximising the structure of their sales department, rapidly expanding sales teams need to focus on three key areas:
Adoption of the procedure and onboarding
A quick and efficient sales procedure
Organizing your team to promote growth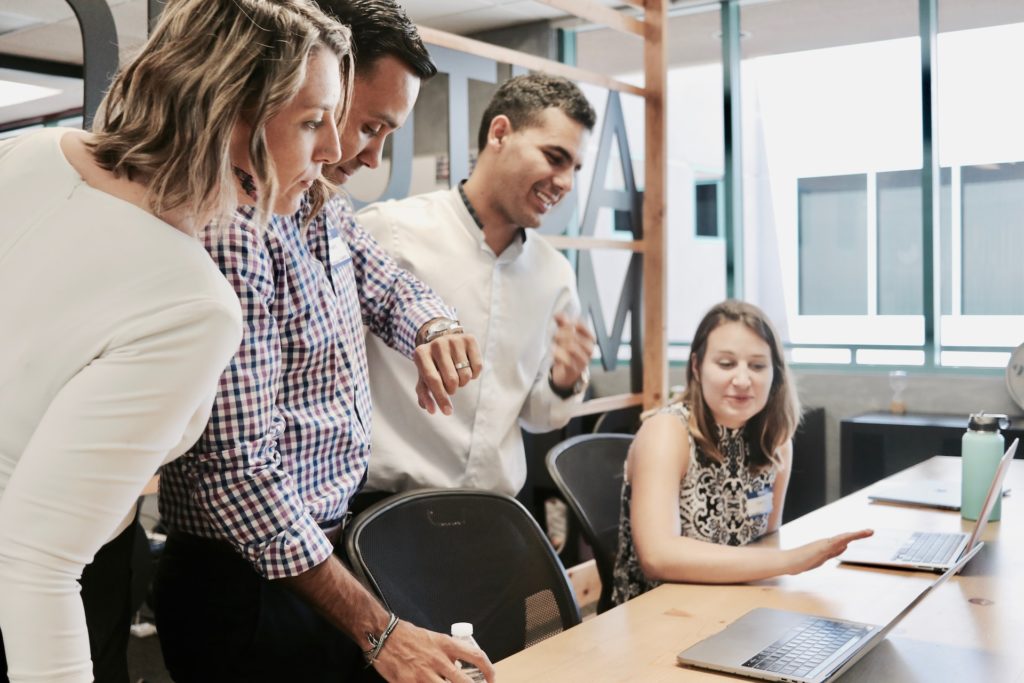 Create an onboarding strategy to ramp new hires more quickly than ever
You may establish clear expectations for each new team member right away with the aid of an effective induction and onboarding procedure. With a standardised training programme, good habits and a consistent, high-quality approach should be created from the start.
You won't get the most out of new reps if you don't invest in a thorough training programme for them, not to mention a transparent sales organisation structure. You'll be stuck in a never-ending cycle of adjusting expectations and forecasts to take slow development into consideration.
You may quickly onboard new sales development reps with the aid of an easy-to-use CRM. Clunky and complex tools will encounter opposition, even with the most meticulously refined procedures and enablement in place. New hires require a tool that they can master in a matter of hours rather than weeks or months.
Your new representatives will ramp up quickly and hit targets at the rate you need to scale rapidly thanks to an effective induction process and accessible sales tools.
Choosing the correct sales targets will increase team enthusiasm and morale
You must inspire and trust your staff to achieve their objectives if you want to maintain success in a growing firm.
Not as easy as it seems. Knowing precisely what your sales force needs from you to succeed is challenging. And it becomes even more challenging when you have to deal with various sales teams and the complicated structure of the sales department.
It can be a delicate balancing act to find the appropriate mix of rewards, motivation, and healthy competition that benefits all of your sales reps. What may be effective for one squad may not be effective for another. A team may be motivated by competition, sales remuneration (such as competitive salary, commission, or awards), or attaining team objectives as a whole.
As sales managers, it's crucial to exert just the appropriate amount of pressure to keep your reps motivated without putting them under undue stress or strain, but it's as crucial to notice if and when the competition is beginning to demoralise your teams.
Set goals that will help your team stay focused on the process
Consider using an action-oriented approach to define goals that your team can consistently accomplish in order to avoid these setbacks altogether.
"Your Best Just Got Better" author Jason W. Womack likens establishing goals to completing a marathon. It makes sense to break up your training into smaller units and build up to the long run because running a marathon can be intimidating.
You have some influence over the activities and inputs of the sales process, but not the outcomes. Taking action becomes considerably simpler if you break your objective down into a number of doable steps.
By switching from results-based selling to activity-based selling, you can help your team regain control over their sales and keep their reps on target all year long.
This strategy also includes celebrating more modest activity-based milestones and achievements, such as upsells or client anniversaries. These objectives will motivate your salespeople to close the proper clients for your company and direct their attention to developing lasting relationships with clients rather than just celebrating the biggest deals.
Your salespeople may spend more time really selling if you provide your teams with a focused and coordinated direction. Additionally, having the appropriate workflows and tools in place enables you to continue fine-tuning your sales process while more efficiently tracking their success.
How to set up your sales team to maximise the success of your representatives
What works best for your company and your salespeople will ultimately determine the best sales force structure. It could take some trial and error to get it perfect, but if it will help your business scale more quickly in the long run, it will be worth it.
You can discover as your sales team expands that having representatives with a general all-around concentration affects your outcomes. This happens frequently. In a growing company, a group of "generalists" gradually loses its effectiveness. Consistencies start to appear, and salespeople start to vie for job titles, prospects, leads, and deals. To fine-tune your procedures and provide your reps with the freedom to master and control their expertise, you must assign specialised roles.
You might think about organising your teams by industry, market, or product. As you launch new products and enter new markets, these pod models enable your teams to hone their approach with a particular emphasis and develop into true specialists.
Assigning teams to each stage of the sales lifecycle is a strategy that many sales managers find effective. The Assembly Line Model is a method of managing sales teams. This might be the best way to enable rapid, long-term growth for your company, depending on the size of your staff.
Typical assembly line stages are as follows:
Lead generation personnel. Hunting parties. Finding leads and acquiring the necessary information to qualify them is your responsibility.
The group that develops sales (SDRs). Those who nurture. Accountable for vetting leads. In order to ascertain whether the prospect fits the ideal customer profile, it is typically necessary to get in touch with them and ask the appropriate questions.
Account managers. Those who close. Account executives are working feverishly to close transactions. They handle product demonstrations, objection management, and any other tasks required to develop the prospect and close the sale.
The group of account managers who work with customers. The farmers. After the sale has been completed, this team enters the picture and focuses on increasing client retention, lowering churn, and securing upsells.
It is simpler to streamline processes and keep each team accountable for the outcomes they are responsible for when each phase of the sales cycle has a dedicated team. Additionally, it simplifies your sales cycle, making it simpler to see problems and find solutions early on.
The assembly line concept has some drawbacks even if it frequently works effectively, such as:
If handoffs are not carefully prepared, there may be a conflict between your teams.
For small enterprises and startups with only one or two salespeople, it's probably too complicated.
If there are problems with alignment and communication, sales performance may be slowed.
Instead, smaller companies can launch using the island model, where each sales representative is in charge of every stage of the procedure. However, when your business expands, this sales technique does not scale well, so before you bring on a continuous stream of new clients, be sure to have a transition strategy in place.
The sales organisational structure that enables you to scale quickly while establishing a predictable and dependable sales process is the best one for your team.
Don't let your sales process interfere with your ability to achieve outcomes
You don't want your rapid growth to begin having an impact on your excellent sales performance. Maintaining momentum requires creating a solid structure for your sales department that will enable your sales teams to expand and proliferate. This calls for a focused team structure, action-oriented team goals, and a streamlined, repeatable sales process. It also entails selecting the appropriate CRM.
In order to maintain the growth velocity you require and inspire your employees to strive for excellence and drive sales success, RisePath CRM should assist you in achieving your goals with more zeal and speed than ever.
---
For more information and a free informational ebook, please add your contact info. Thanks.