Do you examine your team's marketing plan in detail each year?
You ought to. Without a yearly marketing plan, things may get complicated. If you don't have a plan, it's practically hard to estimate the budget you'll need to set aside for the projects, recruiting, and outsourcing you'll need to perform throughout the year.
We at RisePath have compiled a list of items to include in your plan to make the process of creating it easier. The 5 steps to creating a marketing plan are listed below.
1. Evaluate the circumstance.
You must be aware of your existing circumstance before you can begin your marketing strategy.
What are your advantages, risks, opportunities, and weaknesses? The first step in developing a marketing plan is to perform a simple SWOT analysis.
Additionally, you ought to be familiar with the current market. How do you stack up against your rivals? You should be helped with this phase by conducting a competitor analysis.
Consider the ways in which rival products are superior to yours. Additionally, think about the weaknesses in a rival's strategy. What do they lack? What do you have to offer that will give you the upper hand? Consider your unique qualities.
You should be able to determine what your customer wants by responding to questions like these, which gets us to step two.
2. Identify your target market.
Make sure to identify your target market once you have a better understanding of the market and the status of your firm.
If your business currently has buyer personas, this stage could merely require you to improve them.
Create a buyer persona if you don't already have one. You might need to perform market research to accomplish this.
Demographic details like age, gender, and income should be included in your buyer profile. It will also contain psychographic data, such as goals and pain areas. What motivates your target market? What issues may your product or service help them with?
The third phase, which takes us to this information in writing, will assist you in defining your goals.
3. Set SMART objectives.
You need a road map to get somewhere. It can also be used symbolically in marketing, though. Without a clear understanding of your objectives, you cannot increase ROI.
You can start defining your SMART goals once you've assessed your existing condition and identified your target audience.
SMART objectives are clear, quantifiable, doable, relevant, and time-bound. This means that every one of your objectives needs to be detailed and come with a deadline.
Your objective can be, for instance, to gain 15% more Instagram followers in the next three months. This need to be pertinent and feasible based on your overall marketing objectives. This objective is also time-bound, explicit, and measurable.
Your objectives should be put in writing before you begin any technique. After that, you can start evaluating which strategies will enable you to reach that objective. This brings us to the fourth phase.
4. Examine your strategies.
You've now outlined your objectives in writing based on your target market and present circumstances.
You must now decide which strategies will enable you to accomplish your objectives. What are the appropriate channels and tasks to concentrate on, in addition?
For instance, if your objective is to gain 15% more Instagram followers in three months, your strategies can include running a contest, answering every remark, and posting three times each week.
Knowing your objectives will make coming up with a variety of strategies to attain them simple.
This gets us to step number five, where you must keep your budget in mind while you write your tactics.
5. Decide on a budget.
You must be aware of your budget before you can start putting any of the suggestions you made in the previous steps into practice.
Your strategies might, for instance, involve social media advertising. But if you don't have the money for that, you might not be able to accomplish your objectives.
Make sure to include an expected budget when you're outlining your strategies. Along with any resources you might need to buy, like ad space, you can also factor in the time it will take to complete each technique.
After learning how to construct a marketing plan, let's move on to creating an outline for a marketing campaign that will assist you in achieving the goals mentioned in the plan.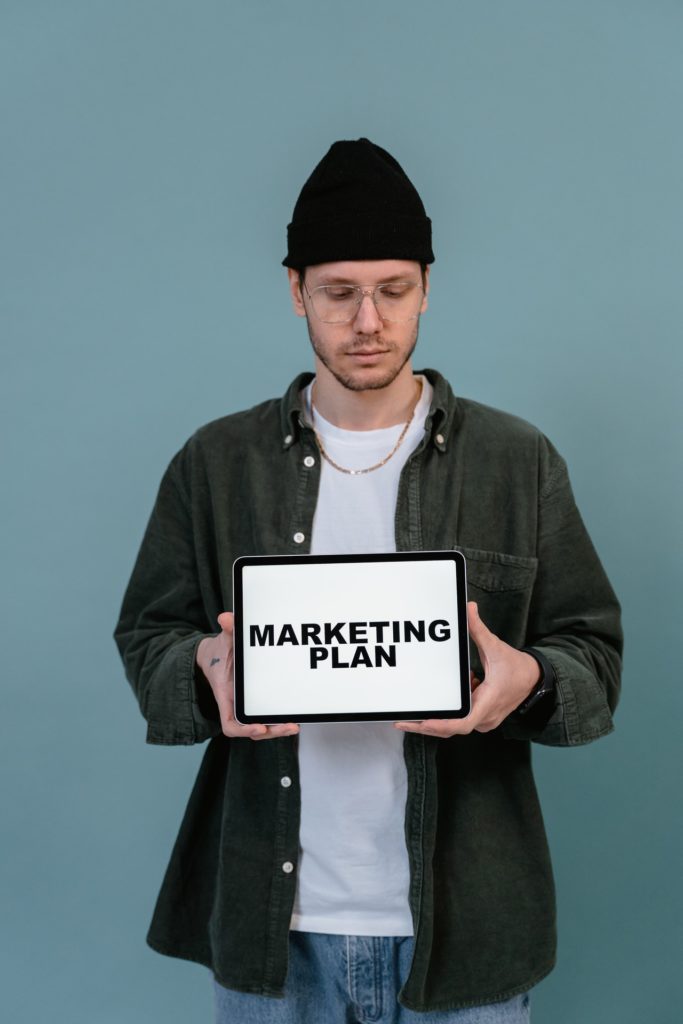 Timing of the marketing plan
A major undertaking is launching a new marketing strategy. You should construct a timeline that shows when each project will occur in order to ensure that everything is going according to plan for all of your tasks.
Your team can see all projects, campaigns, events, and other associated tasks in one location, along with their deadlines, by using a marketing strategy timeline. This makes sure that everyone on your team is aware of what is due, when it is due, and what tasks are coming up next. These plans typically involve marketing activities for the entire year, but other businesses might run on a bi-annual or quarterly schedule.
Setting deadlines for your assignments comes next once you've finished your analysis, research, and goal-setting. Everything will require a deadline, including brand-new blog entries, content efforts, and product launches. Consider any holidays or occasions that may occur throughout the year.
Despite how intimidating it may seem to establish deadlines for the entire year, start by estimating how long you think each work would take, then set a deadline in accordance with that estimate. Keep track of how long it actually takes you to accomplish projects that are similar to them. You'll be able to set more precise deadlines once you've finished a few of them and have a better understanding of how long each one takes.
You should allow enough time for each project for:
Brainstorming: During the brainstorming stage, your concept will first manifest itself as a project outline. Determine your goals and the stakeholders who must be involved for you to attain them. Decide on a deadline and schedule any required meetings.
Planning: The scope of the project, the funding allotted for it, the deadlines, and the personnel assigned to each task are all examples of planning. Plan any marketing that is required for each project (social media, PR, sales promotions, landing pages, events, etc.).
Execution: The beginning of your project is the focus of this third phase. Set a launch date and keep track of the project's development. Create a mechanism for monitoring KPIs and measurements.
Analysis: To determine whether your marketing efforts were successful, you will examine all of your performance data during this last phase. Achieved your objectives? Did you finish your projects on schedule and on a reasonable budget?
Whether it's a calendar, a shared document, or a project management platform like RisePath PlanCentral, all projects and their deadlines should be in one central spot where your team can view them.
Launch Your Marketing Planning Process Right Now
In order to ramp up quickly and position yourself (and your team) to hit more difficult targets and take on more complex initiatives by Q4, the ideal way to set up your marketing plan for the year is to start with quick wins first. What say you, then? Are you prepared to try it out?
---
For more information and a free informational ebook, please add your contact info. Thanks.