Could you give an example of a goal for a marketing strategy if someone asked?
Many people associate marketing with huge, flashy examples such as Super Bowl advertisements and Spotify's annual "Wrapped" campaigns. However, that is most likely the result of months of planning.
However, you must first have a clear aim before you can develop your plan. What are your goals for your company? Perhaps you want to increase the amount of traffic to your website or produce more leads.
If you're having trouble figuring out what that is, don't worry; RisePath has got you covered.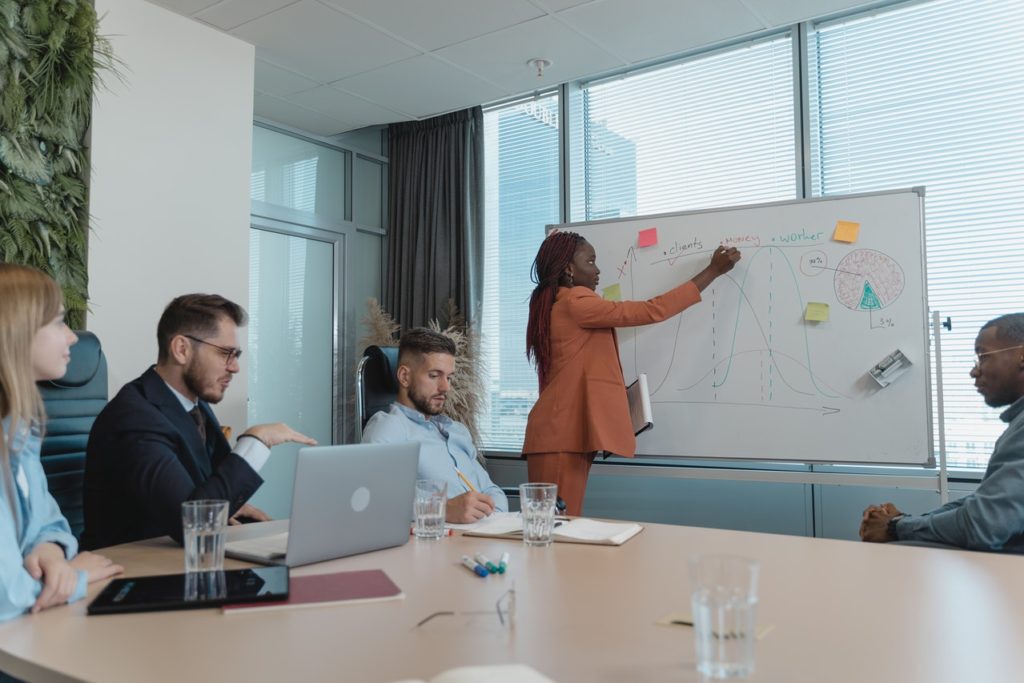 What are the marketing goals?
A marketing goal is a particular and quantifiable target that aids in the achievement of your overall business objectives. It could be anything from generating high-quality leads to enhancing customer value and increasing your recommendation rate.
A campaign that lacks a clear goal is simply pointless. Because you won't be able to assess the impact or value of your efforts.
We'll go over the primary goals you should think about while developing and implementing a marketing plan in this article. These objectives should assist you in achieving the best possible results in 2022 and beyond.
Examples of Marketing Objectives
1. Boost brand recognition.
Brand awareness is crucial for obtaining customers since, after all, how will people know what you have to offer if they don't know you exist?
Every company has a personality, a human voice that is shaped by the tone you use, the platforms you use, and the subjects or topics you discuss. If you want to raise brand awareness, you should start by determining what that personality is and how that voice sounds.
Following that, take the following tactical steps:
Tell a story — Consumers engage with brands with which they identify, and storytelling is a great technique for doing so. Consider your brand's origin story and what gives it humanity when you write your story.
Consider where your prospective purchasers spend the most time online — this could be a specific social media platform such as Instagram or TikTok. It could also be a particular medium, such as email or podcasts. You want to go where your target audience is.
Share and interact with your audience on a regular basis — Once you've figured out what story you want to tell and where your audience is, all that's left is to interact with them. Posting intriguing information on social media, establishing a blog or guest blogging to give business insights, and running polls are all examples of how to do this.
You're more than just a company that offers goods or services. If you have a positive impact on your audience, they will most likely become brand champions, sharing your material and telling their friends, family, and coworkers about it.
How can you determine whether or not a brand is well-known?
Although brand awareness is a difficult statistic to track and quantify, you can assess the impact of your efforts by examining the following quantitative metrics:
For social media, brand mentions, reach, and follower count are all important metrics.
Search volume for a brand, website traffic, and backlinks for SEO
2. Generating high-quality leads is a must.
Your sales team relies on a steady flow of leads to nurture and convert into new clients.
There are various ways to generate marketing-qualified leads, from tried-and-true approaches like on-page forms to cutting-edge features like chatbots.
An example of a lead-generation plan is as follows:
A website visitor arrives at a landing page after discovering your site through an advertisement.
They respond to the call-to-action by filling out a form to obtain a content offer, often known as a lead magnet.
They must first fill out a form before downloading the form (known as a lead capture form).
They go to the content offer download page after filling up their name and email.
The user is then guided down the sales funnel through a nurturing technique.
There are numerous methods for generating leads, including:
Newsletters sent by email
Ads that are retargeted
Marketing with content
Use of social media
If you're having problems generating leads, make a summary of all the leads that come in and categorise the ones that have been excluded and why. This might aid in the refinement of your marketing procedures and the ongoing improvement of the quality of leads received.
3. Bring in new customers.
Gaining consumers is crucial to expanding your business's reach and growth. Many businesses struggle to develop a scalable, long-term plan.
Let's imagine your main customer acquisition strategy is to use content marketing. Do you have a solid team in place to create a style guide and content strategy, and then put it into action across your channels?
Let's imagine you adopt a freemium model, in which you give customers a sample of your product in order to entice them to upgrade to the paid version. Do you have a solid conversion plan in place and a team dedicated to optimizations?
Focus on using sustainable and flexible strategies that will scale with your organisation to develop a solid marketing strategy with the goal of attracting new customers.
4. Increase the number of visitors to your website.
Getting a lot of traffic to your website is one of the most important markers of a successful marketing campaign in this digital age.
So, how do you go about doing it? Here are a few strategies to consider:
Increase the number of paid ad campaigns you run.
Increase your search engine ranking by doubling down on your SEO efforts.
Create a blog.
Make sure that all of your marketing methods go back to your website.
How can you track the number of visitors to your website?
Total number of sessions
Total number of unique page views
Time spent on a page on average
Rate of re-entry
Source of traffic conversion
5. Assign authority to the industry.
It makes no difference what business you work in; being acknowledged as an expert in your field is essential for demonstrating a high degree of expertise and trustworthiness.
Thought leadership, not to be confused with brand awareness, refers to customers identifying your brand — and the people who work for it — as among the best and most trustworthy in the industry.
Brand awareness, on the other hand, is more concerned with ensuring that your brand is heard, seen, and acknowledged.
There are several approaches to establishing and maintaining thought leadership. Publishing and distributing content that inspires your audience and addresses their pain areas is one of these strategies.
Another method of thought leadership is to use partner networks to ensure you can reach a broader audience and appear on par with other industry experts.
Building an external network through outreach and guest blogging, for example, is a terrific way to collaborate on valuable content with other trustworthy and respectable firms in the market.
You may also host a webinar or a panel discussion with other influential industry figures.
6. Increase customer value.
The focus of marketing has shifted away from simply generating new business. It's more crucial than ever to delight your existing client base, keep the individuals who depend on your business happy, and, whenever feasible, assist them in promoting you.
People who are pleased with your service will not only buy from you again but will also recommend you to their friends and coworkers.
If you want to assist your existing clients to stay and develop, there are several things you can do:
From transactions to net promoter score, get your consumer data in order.
Create a customer loyalty programme that allows customers to have first access to products and discounts.
Starting a referral programme is a good idea.
Customer success stories should be shared.
How can you know if you're adding value to your customers?
To determine whether you're boosting customer value and loyalty over time, you'll want to track your upsell and retention targets.
7. Increase brand awareness.
Brand engagement indicates that your target audience is paying attention and enjoying your content. What could be better?
Increasing brand engagement isn't something that can be done immediately. In reality, seeing the results of your efforts can take months. When it happens, however, you'll notice a significant increase in your reach and, more importantly, your money.
The following are the actions you can take to do this:
Determine what matters to your target audience.
Share useful stuff on a regular basis.
Encourage people to take action by starting a dialogue and inviting them to participate in it.
Organize contests and gifts.
When at all possible, personalise your communications.
You're forming a community as you go through these processes. A dedicated community will engage with your audience and, even better, will spread the news.
8. Increase your earnings.
Marketing may help you increase revenue by allowing you to target customers at every level of the funnel.
Here are some marketing methods that can be used at every stage of the process:
Build a strong digital presence on social media and the web, create content that your audience cares about on the platforms they use, and develop content offerings to convert visitors into leads.
Identifying signals that convert leads into MQLs, automating lead nurturing emails, and remarketing tactics are all part of the middle of the funnel.
Create tutorials, and give product demos, and customer success stories at the bottom of the funnel.
Build a customer loyalty programme after the sale.
Keep in mind that this isn't a full list, but it will get you started.
10. Enhance your internal brand.
Internal communications and training employees across the company on the tools and resources they need to succeed when selling or delivering service to clients are becoming increasingly important duties for marketing teams.
Do your coworkers know who your brand's target personas are and what they require at each point of the buyer's journey?
It's critical to make sure that all workers have what they need to confidently talk about the company with prospects and customers and become brand ambassadors.
Final Thoughts
You should be well on your way to establishing and attaining your own SMART marketing objectives by now.
Remember that whatever objectives you set for yourself and your team must have a purpose and help the company as a whole.
Whether it's creating high-quality sales leads or improving your brand awareness, you'll be ready to boost revenue and help your company expand faster in no time.
---
For more information and a free informational ebook, please add your contact info. Thanks.