Regular breaks from work are essential. It's challenging to allow salespeople to take personal time off (PTO) considering the hectic nature of sales divisions. Reps may worry that taking time off would impact their quotas and if they earn commissions, their income.
Only 21% of Americans used all of their PTO in 2020, according to a report, and more than half of those who did regret not using it entirely. A more recent version of the research states that 65% of Americans with fixed paid time off intended on using all of their time off in 2021, given that COVID-19 put a stop to many people's vacation plans.
Given that encouraging employees to take breaks pays out greatly, that is fantastic. According to Shawn Achor's book The Happiness Advantage, "When the brain can think positively, productivity rises by 31%, sales increase by 37%, and innovation and revenues can triple."
PTO sales vacations are advantageous for the business and your reps, but you still need to have clever plans in place if you want to maintain team productivity and reach your sales targets.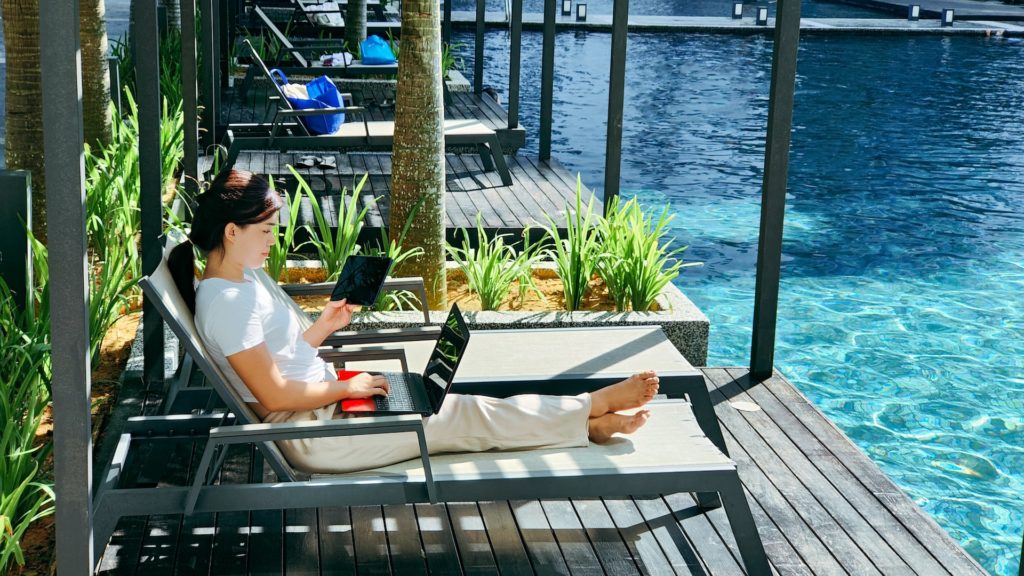 How to ensure that your sales continue when you are away (and tools that help)
Here are some strategies for handling the period before, during, and following your rep's PTO sales break, along with some tools that will make this process stronger.
1. Encourage representatives to advance each deal in their pipeline in the weeks before they depart.
Reps lose control of the sales funnel when they leave the office for a few days or a week.
What if leads leave voicemails that get returned while they're away? What if you followed up with potential customers and decision-makers who were about to make a purchase? Will the contract be ruined if a prospect emails the rep and receives no response?
Reps have great control over what leads and prospects do before they depart, but they have no influence over what they do while they're on vacation. The basis for activity-based selling places more emphasis on tasks like calls, meetings, emails, and follow-ups than on circumstances beyond the rep's control.
Encourage your reps to pursue as many of the deals in their pipeline as possible. For instance:
They might highlight their forthcoming absence to middle and bottom-of-the-funnel prospects to provide extra support and make a selling request.
They can arrange meetings and follow-ups with top-of-funnel lead to address queries that move leads down the funnel.
All leads and prospects will receive the information they require in order to complete the transaction or go to the following phase of the buying process in this manner.
Get your reps to work together (a strategy that can also increase production) so they can cover each other's deals while the other is away and mention this when they check in with leads before vacation. In this manner, leads will be aware of who to contact if they decide to take action while their contact is away.
In their voicemail greetings and out-of-office messages, reps can also include the contact information (such as the phone number and email address) of the person handling their deals. This procedure will ensure that no contract is lost (or accidentally fall through the cracks).
2. During reps' absences, use process automation to maintain attention.
Salespeople may drive prospects through the pipeline even when absent owing to workflow automation.
Workflow automation is the practice of automating crucial but routine tasks. Various tasks, including deal development, contract transmission, and manual administration, can be automated.
Before their PTO hours begin, you can implement the following procedures with your sales team:
Foster results. Add a qualified lead to a nurturing campaign that will drip-feed them valuable material if they need more time and information before moving forward.
Transfer ownership of a contract. Automatically notify the rep who is filling in if a prospect takes action while their primary rep is out of the office so they don't have to wait.
Make a follow-up task list. Create a follow-up reminder for when the rep returns if they checked in with a lead before leaving but haven't heard from them while they're away.
While a person is away, automation will keep leads and prospects warm and alert the rest of the team to jump in to keep the momentum going. Without hands-on tasks or requiring reps to check emails from the beach, your sales funnel will continue to go forward.
3. Assist reps in planning their schedules for their return.
Coming home after a vacation can be a horrible experience. Even the most organised sales representatives may become overwhelmed by the pace of change and the backlog of emails and updates.
Your sales staff will keep their transactions moving even while they are away with the two strategies described so far. Work with the reps after they return to maximise those efforts.
Here's how to save time and what to focus on:
Leave the first day back free of external calls and meetings. Encourage your salespeople to set aside time on a buffer day to catch up on email, speak with co-workers who handled their pipeline, and review notes and events in the CRM.
Check-ins should be made throughout the first week back. Which deals require attention because they advanced while the representative was away? How about leads that dried up? Get representatives to concentrate on contacting active deals in the pipeline for the remainder of the week.
Focus on promising newcomers. Remind your salespeople to focus on the hottest deals and take their time on those at the top of the funnel because there is a lot of pressure to finish everything in a day.
For them to get back on track and continue crushing their goals, assist your reps in balancing their sales time and avoiding distractions.
4. Make use of tools to monitor deals
Here are several technologies you may use to facilitate teamwork, tracking, automation, and planning for the entire sales team when someone isn't there.
Customer Relationship Management (CRM)
A CRM serves as a central hub for tracking each lead as it enters the pipeline and progresses down the funnel. The simplified functionalities of RisePath's solutions make this procedure simple and efficient.
Each contract gives you space for contact history, notes, calls, and calendar events, therefore using a CRM on a team level is crucial. This implies that when a sales representative goes on vacation, another one can continue with the same context from where they left off.
A tool for scheduling meetings
Even scheduling a meeting often necessitates many touchpoints and follow-ups. Scheduling becomes much more difficult when team members need to reassign deals to one another due to PTO.
Sharing available time slots for a call or a meeting is made simple by tools like RisePath PlanCentral. While the lead sales representative in charge is away from the office, each team member can use it to show their personal availability to the leads they are managing.
Automation of email
Nurturing email distribution ought to be a one-time task: Creating a segmented email template and tailoring it to various prospects.
Your sales and marketing workflows can be connected invisibly with the proper email automation platform to create customised email campaigns. Your important content can be created once, and you can make it simple for reps to activate flows before they go on vacation.
Sales documents
Make it simple for the entire team to access and use quotations, proposals, and contracts. For instance, the sales representative filling in for an absent team member should be able to draught and deliver a contract in a matter of minutes rather than hours when a prospect is ready to buy.
Should you implement a PTO schedule?
If you discover that your reps frequently request time off during high sales seasons, you might want to think about setting up a PTO rotation schedule. This is a list of PTO windows that have been set aside in advance.
Requesting PTO and waiting for permission might be made easier by having a PTO rotation schedule. This is so that your representatives can reserve pre-approved vacation times on a first-come, first-served basis.
Your team members will be concerned with completing tasks in a way that benefits the group if you've established a strong culture of productivity, cooperation, and collaboration. Both their own results and those of other salespeople will be important to them. This implies that they'll take everyone's schedules into consideration when scheduling their PTO, and you might not require a PTO rota.
However, if you decide to adopt a PTO rota, make sure to view it as an experiment and routinely solicit input from your team.
Last but not least, be sure to incorporate your PTO rota into your main rota for shifts and schedules so that everyone on the team can easily access it.
Last thoughts
Even while taking a break from sales can be difficult, you now realise that it doesn't have to be. Your sales agents can organise their sales activity in advance with your assistance, enlist the aid of team members while they are gone, and swiftly catch up once they are back.
A hungry, effective sales team and team members who understand the value of downtime are both possible when cooperation and empathy are the default settings.
---
For more information and a free informational ebook, please add your contact info. Thanks.