While providing constructive feedback to team members is common practice for managers and bosses, you might not be used to doing the same for your superiors.
Giving feedback to your manager increases the strain of what can be a nerve-wracking conversation in general. To increase your performance and well-being as well as your working relationship with your manager, keep the lines of communication open and give useful feedback.
This RisePath article will teach you how to provide both positive and negative feedback to your manager or employer, along with advice on how to keep your remarks on topic no matter what you have to say.
You'll be well-prepared for your next sales performance evaluation after reading this post.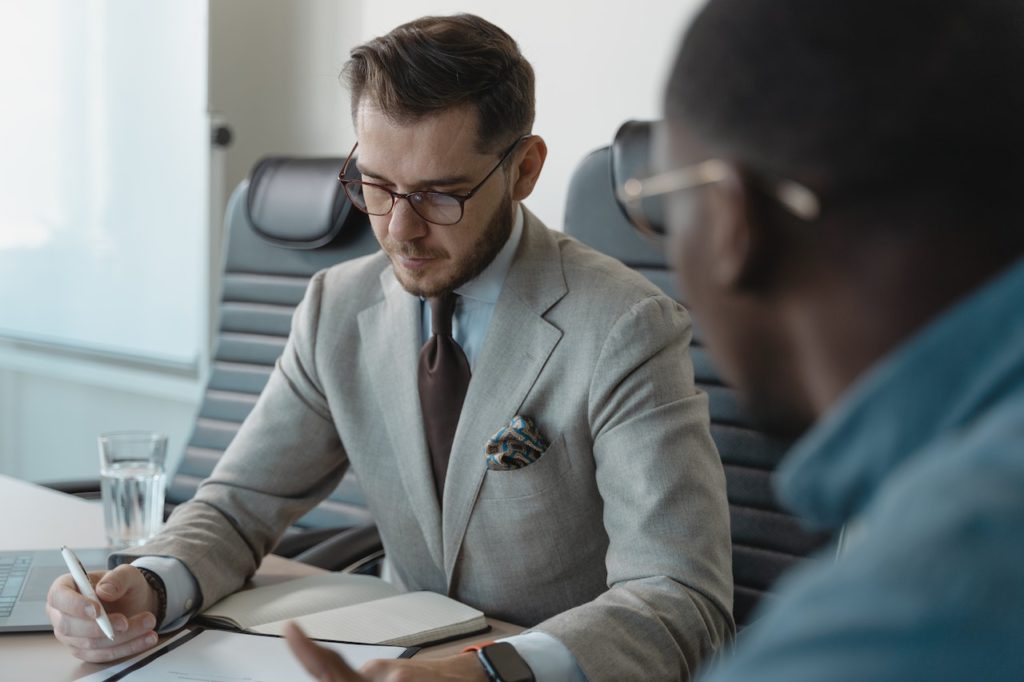 Why is it crucial to provide your manager with feedback?
As an employee, delivering positive feedback to managers is crucial for a variety of reasons, some of which include:
Assisting your supervisor or management to get better
Strengthening your professional dynamic
Strengthening your communication abilities
Resolving issues before they become more serious
Improving problem-solving capabilities
Creating a healthy work environment
Contributing to a good feedback culture
Any flourishing company culture must incorporate manager and employee input. If your manager is competent and considerate, they ought to be open to any criticism that leads to improvement. The more effectively your higher-ups perform, the more likely it is that the entire team will improve employee performance because team dynamics typically start at the top.
Providing your manager with candid feedback enables you to establish a respectful, work-related connection. If you want to develop your leadership abilities and advance in the organisation, you especially want your manager or employer to be able to take you seriously. Make your voice known when your manager requests feedback so that you aren't perceived as weak-willed or incapable of forming your own thoughts when it comes time for employee performance reports.
Participating in constructive criticism also assists in resolving problems before they worsen. For instance, you'll save misunderstandings and irritation if you can let your boss know early in the quarter that the rest of the team, including yourself, needs clearer goals.
Overall, receiving input in both directions benefits the management, the direct reports, and the business as a whole. Employee engagement and positive behaviour will soar if everyone feels free to express their opinions in a way that is appropriate and helpful to the group as a whole.
All that's required of you is learning how to provide constructive criticism, which we'll assist with so that you can handle it well when the opportunity arises.
When to provide your management with feedback
Numerous businesses use quarterly, biannual, or annual evaluations. You can provide your manager constructive or unconstructive criticism during the review period if your organisation has one. Always take the opportunity to speak up and provide specific examples, as doing so demonstrates that you have insightful suggestions and are interested in enhancing your team's performance.
If your employer doesn't conduct routine performance management reviews, you'll need to create your own opportunities to give your boss constructive criticism. Although approaching your manager about your employee experience can seem intimidating, doing so at the correct time will make all the difference. Suitable scenarios where you should provide your manager with comments:
When conducting one-on-one check-ins (if you have them)
You can call during a meeting to discuss ongoing initiatives and bring up any problems you feel need to be addressed.
If the kind of feedback you're providing during a team meeting has an impact on the entire team (be careful to not target your manager in a way that makes them feel uncomfortable in this group setting).
Whenever your management requests input.
It's crucial to be considerate and professional when providing feedback, even when it's not specifically requested or a part of a formal feedback session. It will be easier for you to keep your feedback formal and thoughtful rather than spontaneous or reactionary if you schedule a sales meeting or choose a time, as in the instances of feedback for your manager given above.
When to refrain from offering your manager comments
As we've seen, providing feedback to others is typically a good thing that leads to a stronger, more effective team dynamic and feedback culture. Even though it may feel like constructive criticism, there are times when giving input isn't the best course of action, especially if it's negative:
In the midst of the crisis
In front of the superiors of your manager
When your manager appears anxious or when things are particularly busy
When you're incredibly annoyed or stressed out
When the criticism is grave and ought to include human resources
When you've only recently begun a new position and you haven't yet built rapport
In other words, use your best judgement to determine whether it feels right to provide feedback to your management. If your boss isn't giving you the chance to discuss it with them directly, it's advisable to set aside some time for it between the two of you.
To be sure of your opinions, wait a while before sharing any unfavourable comments. This aids in the efficient planning of talking points.
Concluding remarks
Even if you have to generate the opportunity yourself, giving supervisors feedback is a necessary activity even though it's not always simple. Follow our advice on timing, give your manager your opinion in a professional manner, and pay attention to both your manager's strengths and places for development.
Both managers and supervisors must provide an equal amount of constructive criticism and positive affirmation to staff in order to maintain morale. Recognize that managing a sales team, business, or even just one direct report requires time, patience, and careful planning; attempt to imagine yourself in your manager's shoes.
A strong leader will readily accept helpful criticism. With this advice of manager feedback in hand, you should feel comfortable bringing up crucial subjects with your manager and maintaining open communication in general. The more you both discuss your needs with one another, the better.
---
For more information and a free informational ebook, please add your contact info. Thanks.